Join us in Berlin
We are excited to announce that the 40th European Conference on Visual Perception – ECVP 2017 – will be held in Berlin, Germany.
The conference continues the series of the past ECVPs such as 2016 in Barcelona. Berlin represents vibrancy, innovative business ideas and shelters an extraordinary research landscape. Its friendliness and relaxed atmosphere promises a unique experience for all visitors.
We cordially invite you to join this event!

Official host of ECVP 2017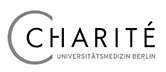 Acknowledgements
We would like to thank Charité – Universitätsmedizin Berlin, the official host of this year's ECVP, for making this event possible. In particular, we benefited strongly from the continuous support by Dr. Thomas Gazlig (Head of Business Division of Research). We gratefully appreciate the support from the Charité administration in accounting and legal affairs. ECVP was generously supported by the Deutsche Forschungsgemeinschaft (DFG, grant # OS 507/1-1).